10K Precision Epoxy Thermistor - 3950 NTC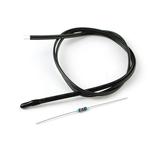 Need to measure something damp? This epoxy-coated precision 1% 10K thermistor is an inexpensive way to measure temperature in weather or liquids. The resistance in 25 °C is 10K (+- 1%). The resistance goes down as it gets warmer and goes up as it gets cooler. For specific temperature-to-resistance, check the lookup table.
These are often used for air conditioners, water lines, and other places where they can get damp. The PVC coating of the wires is good up to 105 °C so this isn't good for very hot stuff.
We even toss in an additional 1% 10K resistor which you can use as calibration or for a resistor divider.
Just so you know; all our prices include GST, orders over $100.00 qualify for free shipping. Everything that is in stock (green tick icon) ships overnight on CourierPost. A lot of things that have the "blue question mark" stock icon are actually available now direct from our suppliers, please feel free to ask us if you aren't sure.
All our products are sourced through official channels, and come with a manufacturers warranty. Here's our returns policy if you'd like to read it before purchasing.