Acconet EN66 IP66 Weatherproof Enclosure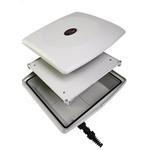 $145.00
Inc. GST and shipping
The Acconet EN66 IP66 Weatherproof Case enclosure has been specifically designed to house most forms of wireless circuitry, through providing ample internal space as well as a flexible mounting system to adapt to any electronics module. The unit ships with a very sturdy pole-mounting bracket. The included CAT5 cable enters through a weatherproof gland (pass-through). There is space for up to 4 external antenna connectors on the base, should the unit be linked to external antennas.
Features
IP66 weatherproof rating
Adjustable pole mount bracket included
4 adjustable component mounting standoff posts
Weatherproof RJ45 connector
Fantastic case and great value with all the included accessories. Will fit any of the PC Engines Alix boards and many other devices which may need to be located out in the weather.
Just so you know; all our prices include GST, orders over $100.00 qualify for free shipping. Everything that is in stock (green tick icon) ships overnight on CourierPost. A lot of things that have the "blue question mark" stock icon are actually available now direct from our suppliers, please feel free to ask us if you aren't sure.
All our products are sourced through official channels, and come with a manufacturers warranty. Here's our returns policy if you'd like to read it before purchasing.