ADATA USB-C to USB-C 3.1 Cable - 1M
Gen 1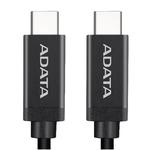 The ADATA USB-C to USB-C 3.1 Sync | Charge cable lets you enjoy the full benefits of USB-C. This cable has an embedded chip that boosts transmission power up to 60W and supports USB 3.1 Gen 1 speeds for fast charging and ample bandwidth for high-definition video.
Warranty: 12 Month Return to Base Warranty
Specifications
Interface: USB Type-C Gen 1
Colour: Black
Texture: Aluminum-Casing, Plastic
Performance: 5Gbps
Notes: 5Gbps is the theoretical speed, need to be compatible with host devices to achieve the high-speed transmission performance.
Just so you know; all our prices include GST, orders over $100.00 qualify for free shipping. Everything that is in stock (green tick icon) ships overnight on CourierPost. A lot of things that have the "blue question mark" stock icon are actually available now direct from our suppliers, please feel free to ask us if you aren't sure.
All our products are sourced through official channels, and come with a manufacturers warranty. Here's our returns policy if you'd like to read it before purchasing.