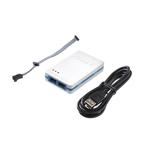 $201.00
Inc. GST and shipping
Atmel-ICE is a powerful development tool for debugging and programming Atmel ARMCortex-M Based Atmel SAM and AVRmicrocontrollers with on-chip debug capability.
Atmel-ICE supports:
Programming and on-chip debugging of all Atmel AVR 32-bit MCUs on both JTAG and aWire interfaces
Programming and on-chip debugging of all Atmel AVR XMEGA family devices on both JTAG and PDI 2-wire interfaces
JTAG and SPI programming and debugging of all Atmel AVR 8-bit MCUs with OCD support on either JTAG or debugWIRE interfaces
Programming and debugging of all Atmel SAM ARM Cortex-M based MCUs on both SWD and JTAG interfaces
Programming of all Atmel tinyAVR8-bit MCUs with support for the TPI interface
Key Features
Supports JTAG, SWD, PDI, TPI, aWire, SPI and debugWIRE interfaces
Full source-level debugging in Atmel Studio
Supports all built-in hardware breakpoints in the target microcontroller (number depends on the OCD module in the target)
Up to 128 software breakpoints
1.62 to 5.5V target operation
USB powered
Provides both ARM Cortex Debug Connector (10-pin) pin-out and AVR JTAG connector pin-out
Just so you know; all our prices include GST, orders over $100.00 qualify for free shipping. Everything that is in stock (green tick icon) ships overnight on CourierPost. A lot of things that have the "blue question mark" stock icon are actually available now direct from our suppliers, please feel free to ask us if you aren't sure.
All our products are sourced through official channels, and come with a manufacturers warranty. Here's our returns policy if you'd like to read it before purchasing.