Filament - HIPS 3.0mm 1kg (Black)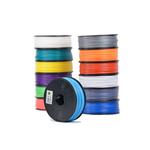 High Impact Polystyrene (HIPS) is an easy, low cost, and widely used 3D printing filament. HIPS comes in a wide range of colors and because it's so easy to print with it is recommended for beginners.
Works with: LulzBot Mini, LulzBot TAZ 5, LulzBot TAZ 1-4, LulzBot Hexagon, LulzBot Budaschnozzle, LulzBot TAZ 5 Hexagon, LulzBot TAZ Dual Extruder, LulzBot TAZ FlexyDually
Support: HIPS, 3mm Filament, 1kg Reel (eSUN)
HIPS 3D printer filament has similar properties to ABS. Since it is relatively strong it can also be sanded. Unlike ABS, HIPS has less potential for warping while printing and is ideal for painting making it popular for use with costumes, models, and miniature figurines. Additionally, the low cost of HIPS makes it an appealing material for rapid prototyping, early testing of modeled objects, and educational settings.
HIPS also performs well as a support material. This means it can be used with other filaments when you can print objects with interior cavities, intricate sections, overhanging portions, and much more.
Filament Specifications
Filament Diameter: 3 mm (0.12 inches)
Amount of Filament: 1 kg (2.2 lbs)
Average Length of Filament: 141.5m
Filament color may vary
Printing Specifications
Tool Head Requirements: LulzBot Hexagon Hot End recommended
Hot End Temperature Range: 230°C
Print Surface: PEI film recommended
Packaging Information
HIPS filament ships vacuum sealed and mounted on a reel.
Resources and Documentation
Find the most up-to-date print profiles, including hot end and print bed temperatures, by selecting your Free Software program of choice:
Just so you know; all our prices include GST, orders over $100.00 qualify for free shipping. Everything that is in stock (green tick icon) ships overnight on CourierPost. A lot of things that have the "blue question mark" stock icon are actually available now direct from our suppliers, please feel free to ask us if you aren't sure.
All our products are sourced through official channels, and come with a manufacturers warranty. Here's our returns policy if you'd like to read it before purchasing.