Jabra Link 230
USB to Quick Disconnect Cable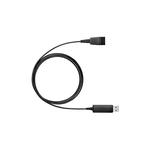 The Jabra Link 230 Plug-and-Play USB adapter lets you use your corded Jabra QD (Quick Disconnect) headset with a softphone and enhances the audio at the same time.
The Jabra Link 230 is compatible with any corded Jabra QD headset and all leading brands of softphones. As a result, users can continue to leverage the benefits of a professional Jabra headset, including superior sound, noise canceling and all-day wearing comfort. This makes it the ideal solution for contact centers that want a smooth and cost-effective transition to a Unified Communications solution.
Jabra Link 230 incorporates a number of sound quality features, such as Digital Signal Processing (DSP) for greater intelligibility, and noise filtering for a cleaner, distortion-free and smooth audio experience.
Just so you know; all our prices include GST, orders over $100.00 qualify for free shipping. Everything that is in stock (green tick icon) ships overnight on CourierPost. A lot of things that have the "blue question mark" stock icon are actually available now direct from our suppliers, please feel free to ask us if you aren't sure.
All our products are sourced through official channels, and come with a manufacturers warranty. Here's our returns policy if you'd like to read it before purchasing.