Jabra Polycom EHS Adapter Cable
Control Polycom phones with your wireless headset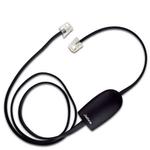 Stock at
Supplier
The Jabra 14201-17 EHS Adapter enables remote Electronic Hook Switch Control (EHS) with Jabra wireless headsets and selected Polycom SoundPoint IP phones.
This means that users can hear ring tones, answer and end calls, adjust the volume or even mute the call up to 450 ft. away from their desks. The integration of handset and headset allows users to benefit from enhanced mobility and the ability to multitask while on a call. The wireless freedom improves work efficiency and ergonomics throughout the day.
Compatible with
Polycom SoundPoint IP Phones 320/321** 330/331*** 335, 430, 550, 560, 650 and 670
Jabra Headsets; GN9120 EHS, GN9120 DUO EHS, GN9350
** IP 320/321/330/331 requires 2.5mm to RJ-9 adapter cable.
Just so you know; all our prices include GST, orders over $100.00 qualify for free shipping. Everything that is in stock (green tick icon) ships overnight on CourierPost. A lot of things that have the "blue question mark" stock icon are actually available now direct from our suppliers, please feel free to ask us if you aren't sure.
All our products are sourced through official channels, and come with a manufacturers warranty. Here's our returns policy if you'd like to read it before purchasing.