Magnetic contact switch (Door Sensor)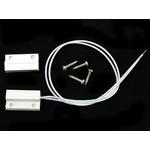 This sensor is essentially a reed switch, encased in an ABS plastic shell. Normally the reed is 'open' (no connection between the two wires). The other half is a magnet. When the magnet is less than 13mm (0.5") away, the reed switch closes. They're often used to detect when a door or drawer is open, which is why they have mounting tabs and screws. But these also have a sticky-foam-tape back so you can also place them in locations you cant attach with screws.
Normally open reed switch
ABS enclosure
Rated current: 100 mA max
Rated voltage: 200 VDC max
Distance: 15mm max
Dimensions:
Box size (each side): 27mmx14mmx8.7mm (1inx0.55inx0.34in)
Cable Length: 25cm (10in)
Weight (per side): 5.2g (0.18oz)
(Adafruit product 375)
Just so you know; all our prices include GST, orders over $100.00 qualify for free shipping. Everything that is in stock (green tick icon) ships overnight on CourierPost. A lot of things that have the "blue question mark" stock icon are actually available now direct from our suppliers, please feel free to ask us if you aren't sure.
All our products are sourced through official channels, and come with a manufacturers warranty. Here's our returns policy if you'd like to read it before purchasing.