Panasonic KX-TPA65 VoIP Desk Phone
Additional Desk Phone for Panasonic VoIP Cordless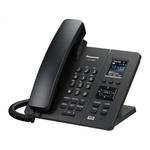 $264.00
Inc. GST and shipping
The Panasonic KX-TPA65 is an additional desk phone for you to grow your KX-TGP600 based smart telephone system as your needs change with the addition of KX-TPA60 (cordless) or KX-TPA65 (desktop) (DECT) SIP handsets.
Compatible with the KX-TGP600 smart IP wireless phone system, the KX-TPA65 wireless desk phone offers a significant advantage over 'traditional' desk phones. While it features the same range of desktop functionality as its wired competitors, the phone's DECT capabilities means no wired LAN is required when installation is being carried out, making the process more convenient and straightforward.
1.8" colour LCD with backlight
3-colour LED indicator
HD wideband audio (G.722)
Headset jack
Easy installation without wired LAN
The KX-TPA60 is supported by the KX-TGP600. This model can also work alongside any combination of additional KX-TPA60 or KX-TPA65 and handsets.
Note: Handset only Use with Panasonic KX-TGP600 available in the related product below.
Just so you know; all our prices include GST, orders over $100.00 qualify for free shipping. Everything that is in stock (green tick icon) ships overnight on CourierPost. A lot of things that have the "blue question mark" stock icon are actually available now direct from our suppliers, please feel free to ask us if you aren't sure.
All our products are sourced through official channels, and come with a manufacturers warranty. Here's our returns policy if you'd like to read it before purchasing.