Panel Mount Ethernet Extension Cable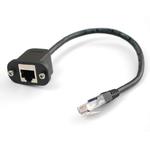 This handy Ethernet extension cable will make it easy for you to enclose a device that has an Ethernet port. We think this would be most useful when putting a Beagle Bone, Raspberry Pi, Arduino Ethernet into a box.
The jack half has two mounting 'ears' with M3 screws installed, 1.125" inch / 28.5mm apart. The ears are flexible so the holes don't have to drilled very precisely. Can be used with box walls up to 0.25" wide. The screws can be put on from the back for 'reverse' mounting if the box thickness is a problem. Entire cable is 11" long.
Features
Panel mount Ethernet 8P socket with Ethernet 8P plug at cable end. Straight-through extension
24 AWG wires
11" long / 28 cm
Two M3 mounting screws, 1.125" / 28.5mm apart
Just so you know; all our prices include GST, orders over $100.00 qualify for free shipping. Everything that is in stock (green tick icon) ships overnight on CourierPost. A lot of things that have the "blue question mark" stock icon are actually available now direct from our suppliers, please feel free to ask us if you aren't sure.
All our products are sourced through official channels, and come with a manufacturers warranty. Here's our returns policy if you'd like to read it before purchasing.