Panel mount HDMI Cable - 40cm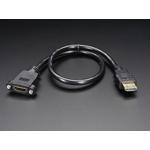 This panel mount extension cable will allow you to extend an HDMI connection and secure it to an enclosure. Perfect for placing your Raspberry Pi in a secure box. Two #4-40 screws are used to attach the female socket end, 26.9mm apart. Two hex-body standoff-screws are included as shown above and the hex nuts are embedded inside the molded end.
Cable is 40cm long (about 16 inches). This is a HDMI 1.4 cable.
(Adafruit product 978)
Just so you know; all our prices include GST, orders over $100.00 qualify for free shipping. Everything that is in stock (green tick icon) ships overnight on CourierPost. A lot of things that have the "blue question mark" stock icon are actually available now direct from our suppliers, please feel free to ask us if you aren't sure.
All our products are sourced through official channels, and come with a manufacturers warranty. Here's our returns policy if you'd like to read it before purchasing.