PC Engines ALIX 2D3
500MHz, 256MB RAM, 3x Net, USB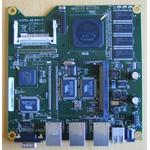 $235.00
Inc. GST and shipping
The ALIX 2D3 system board from PC Engines is a small, low power single board computer. The ALIX series is the replacement for the popular WRAP series of boards from PC Engines (and the 2D3 is a minor hardware update to the 2C3).
We are currently supplying the ALIX 2D13 instead of the 2D3, the 2D13 is the same board but with an RTC battery.
The ALIX boards are popular in the embedded open source market. An excellent choice for a Linux or BSD firewall, router or wireless device.
Popular choices for free open source distributions to run on the ALIX boards include Voyage Linux, OpenWRT, m0n0wall and pfSense amongst many others. nicegear likes Voyage.
Features
500 MHz AMD Geode LX700 CPU
256 MB DDR DRAM
CompactFlash socket
1 miniPCI slot, LPC bus
3 Ethernet channels (Via VT6105M 10/100)
DB9 serial port
2 USB ports
6" x 6" (152.4 x 152.4 mm)
tinyBIOS firmware
3-5 watts power consumption
Three front panel LEDs, pushbutton
Just so you know; all our prices include GST, orders over $100.00 qualify for free shipping. Everything that is in stock (green tick icon) ships overnight on CourierPost. A lot of things that have the "blue question mark" stock icon are actually available now direct from our suppliers, please feel free to ask us if you aren't sure.
All our products are sourced through official channels, and come with a manufacturers warranty. Here's our returns policy if you'd like to read it before purchasing.