PC Engines miniPCI Express Radio
802.11ac, Qualcomm Atheros QCA9882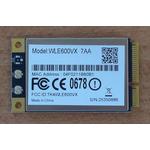 This is the PC Engines miniPCI Express Radio.
Wireless radio cards are ESD sensitive, especially the RF switch and the power amplifier. To avoid damage by electrostatic discharge, the following installation procedure is recommended:
Touch your hands and the bag containing the radio card to a ground point on the router board (for example one of the mounting holes). This will equalize the potential of radio card and router board.
Install the radio card in the miniPCI express socket.
Install the pigtail cable in the cutout of the enclosure. This will ground the pigtail to the enclosure.
Touch the I-PEX connector of the pigtail to the mounting hole (discharge), then plug onto the radio card.
Use external lightning protection for outdoor applications.
Chipset: Qualcomm Atheros QCA9882
Connector: I-Pex / u.fl
Compliance: FCC & CE. Intended for professional use.
Just so you know; all our prices include GST, orders over $100.00 qualify for free shipping. Everything that is in stock (green tick icon) ships overnight on CourierPost. A lot of things that have the "blue question mark" stock icon are actually available now direct from our suppliers, please feel free to ask us if you aren't sure.
All our products are sourced through official channels, and come with a manufacturers warranty. Here's our returns policy if you'd like to read it before purchasing.