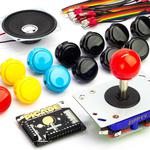 Pimoroni have put together a great bundle of parts that will get you on your way to turn your Raspberry Pi into a retro games console! The Picade HAT + Parts Kit includes a full wiring loom, arcade buttons, and a speaker. Just add or build your own cabinet!
Kit contents
Picade HAT
Wiring loom
2 x red arcade button
2 x blue arcade button
2 x yellow arcade button
5 x black arcade button (one for power switch)
Joystick
Speaker (with attached wires)
Notes
We can't offer the kit in any other configurations (button colours, etc) but you can find all of the individual parts on the Pimoroni site if you want to make your own custom setup!
You can find instructions on how to set everything up here and software/drivers on the Picade HAT GitHub page.
Just so you know; all our prices include GST, orders over $100.00 qualify for free shipping. Everything that is in stock (green tick icon) ships overnight on CourierPost. A lot of things that have the "blue question mark" stock icon are actually available now direct from our suppliers, please feel free to ask us if you aren't sure.
All our products are sourced through official channels, and come with a manufacturers warranty. Here's our returns policy if you'd like to read it before purchasing.