Practical Arduino Book
Great book with interesting projects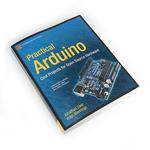 $104.00
Inc. GST and shipping
Practical Arduino: Cool Projects for Open Source Hardware by Jonathan Oxer and Hugh Blemings demonstrates a variety of Arduino techniques in a practical context, giving you an opportunity to learn how the theory and reference material applies to real-world projects.
Create your own Arduino-based designs, gain in-depth knowledge of the architecture of Arduino, and learn the user-friendly Arduino language all in the context of practical projects that you can build yourself at home. Get hands-on experience using a variety of projects and recipes for everything from home automation to test equipment.
This book provides more than just a simple series of steps to follow - it tells you why the circuit was designed that way in the first place. You won't just be a color-by-numbers painter; you'll learn to be a true hardware craftsman and artist, able to coneptualize, design, and assemble your own creations. Take these projects as inspiration and examples of applying a variety of handy techniques, and then adapt them to suit your own requirements.
A few of the projects you'll encounter:
Appliance Remote Control
Time-Lapse Camera Controller
Virtual USB Keyboard
Security/Automation Sensors
Online Thermometer
Speech Synthesis
Weather Station Reciver
Vehicle Telemetry Platform
Info
Paperback 500 pages
Published by Apress (December 29, 2009)
English Language
ISBN-10: 1430224770
ISBN-13: 978-1430224778
Just so you know; all our prices include GST, orders over $100.00 qualify for free shipping. Everything that is in stock (green tick icon) ships overnight on CourierPost. A lot of things that have the "blue question mark" stock icon are actually available now direct from our suppliers, please feel free to ask us if you aren't sure.
All our products are sourced through official channels, and come with a manufacturers warranty. Here's our returns policy if you'd like to read it before purchasing.