Siemens Gigaset E630H
Rugged Additional Handset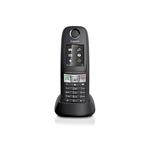 $165.00
Inc. GST and shipping
The Siemens Gigaset E630H is an additional DECT handset for the Gigaset range, can be used with the Gigaset A510IP or Gigaset C610IP cordless DECT IP Phones.
The Gigaset E630H is the tough handset from Gigaset. Resistant to water splashes, shocks and dust, it can survive in any environment, from the most hectic of homes to the dustiest of workshops. Easy to handle, this handset has an illuminated colour display and keypad for faster navigation.
Features at a glance
Side key for easy volume control
Large, illuminated 1.8" TFT colour display
Searchable phonebook with up to 150 entries
Pocket torch feature
Vibrate call notifications
Long talk/standby time of up to 14 and 300 hours, respectively
Message key for easy access to missed calls
A vibrating caller alert and light signal mean you're always aware of incoming calls, even in a noisy environment. The comfortable handset makes talking a pleasure, with an easy-to-reach side key for fast and convenient volume control. This landline telephone has great sound quality. And if you do miss a call, a message key keeps you in the loop.
You can very easily adapt the phone profile to your loud or quiet surroundings. Simplified call acceptance lets you answer the phone even if your hands are soiled or sticky. Fuss-free navigation thanks to the clear menus, an illuminated keypad and a TFT colour display makes it easy to browse the phonebook that efficiently stores up to 150 contacts.
Energy-efficient power supply means that the Gigaset E630 is easier on the environment – and on your wallet. Like all Gigaset cordless phones, it variably reduces the transmitting power from the handset to the base station depending on their distance apart. You can also decrease the transmitting power of the Gigaset E630's base station by 80% – simply select ECO Mode. What's more, radiation-free ECO Mode Plus switches off the transmitting power whenever your phone is in idle mode.
Multi-task and keep the conversation going – even when your hands are full. Advanced hands-free means you can always get the job done. With a talk time of up to 14 hours, the Gigaset E630 doesn't cut you short. And up to 300 hours of standby time means the handset can stay within easy reach as you complete your tasks.
Just so you know; all our prices include GST, orders over $100.00 qualify for free shipping. Everything that is in stock (green tick icon) ships overnight on CourierPost. A lot of things that have the "blue question mark" stock icon are actually available now direct from our suppliers, please feel free to ask us if you aren't sure.
All our products are sourced through official channels, and come with a manufacturers warranty. Here's our returns policy if you'd like to read it before purchasing.