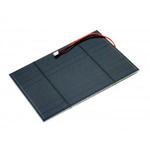 This is a custom solar panel, which mates directly with many of our development boards and has a high efficiency at 15%. Unit has a clear epoxy coating with hard-board backing. Robust sealing for out door applications!
Specification
PCB size : 116*160*1.5 mm
Monolithic : 9.57*156 mm
Efficiency : 15%
Voltage:5.5V;
Current:450mA
Power:2.5W
Type:156 Two line;
PCB Material : all Glass fiber
PCB requirements : positive
Quality requirements :
flatness less than 0.1mm
clean, does not allow to have the scratch
take off paint the phenomenon, such as a hole does not allow to have the deviation
Note : tolerance Positive and negative 0.1mm
Name: PET laminated (116*160)
Arrangement:1*11(series)NO spacing posted artical black;
For more informations, please visit here
Just so you know; all our prices include GST, orders over $100.00 qualify for free shipping. Everything that is in stock (green tick icon) ships overnight on CourierPost. A lot of things that have the "blue question mark" stock icon are actually available now direct from our suppliers, please feel free to ask us if you aren't sure.
All our products are sourced through official channels, and come with a manufacturers warranty. Here's our returns policy if you'd like to read it before purchasing.