Tamiya 70096 Off-Road Tires (2 tires)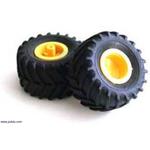 The two extremely springy tires in the Tamiya 70096 off-road tires set are about 50 mm in diameter and 30 mm wide. Use these if you want your robot to have a soft, air-cushioned ride across rough terrain. (Compatible with the Tamiya gearbox numbers 70093, 70097, 70103, and 70110, 70167, and 70168).
The Tamiya 70096 off-road tires set includes the following:
Two wheels: 50 mm diameter, 30 mm wide
Two hubs for use with 3 mm hex shafts
One 3 mm hex shaft, 100 mm long
(The hex shaft inserts directly into the wheel with a tight press fit; no tools are necessary.)
These tires are semi-pneumatic, not inflated, and they can support up to a few hundred grams per wheel before starting to deform excessively.
(Pololu product 64)
Just so you know; all our prices include GST, orders over $100.00 qualify for free shipping. Everything that is in stock (green tick icon) ships overnight on CourierPost. A lot of things that have the "blue question mark" stock icon are actually available now direct from our suppliers, please feel free to ask us if you aren't sure.
All our products are sourced through official channels, and come with a manufacturers warranty. Here's our returns policy if you'd like to read it before purchasing.