Ubiquiti Instant PoE Converter - Outdoor
802.3af, 18V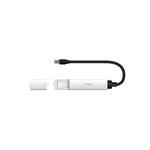 The Ubiquiti Instant PoE Outdoor Converter is ideal for use with Ubiquiti's family of UniFi, Airmax and 802.11a/b/g ISP products.
Longer 48V cable runs capable because of increased efficiency of power delivery (less current)
Additional +/-15kV of Ethernet isolation and ESD/Surge protection to device
Works seamlessly with Cisco Catalyst and other 802.3af Switches for remote power control
Resources
For more information, visit the Instant PoE Outdoor Converter product page on the Ubiquiti website.
Just so you know; all our prices include GST, orders over $100.00 qualify for free shipping. Everything that is in stock (green tick icon) ships overnight on CourierPost. A lot of things that have the "blue question mark" stock icon are actually available now direct from our suppliers, please feel free to ask us if you aren't sure.
All our products are sourced through official channels, and come with a manufacturers warranty. Here's our returns policy if you'd like to read it before purchasing.