Ubiquiti LTU-Lite 5GHz LTU WISP Client Radio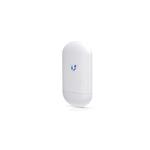 $228.00
Inc. GST and shipping
Retired product
This is a retired product and is no longer available. We don't have any alternatives at this time.
This is the Ubiquiti LTU-Lite 5GHz LTU Client Radio. Incorporating Ubiquiti's proprietary LTU technology, the LTU-Lite is a 5 GHz radio with an integrated antenna design for use as a PtMP CPE. LTU technology breaks through the limitations of 802.11 Wi-Fi technology and supports 1024 QAM for superior performance. Channel width flexibility (10/20/30/40/50 MHz) allows independent TX and RX channel frequency configurations anywhere within the radio band to avoid local interference.
Featuring an integrated antenna, the LTU Lite is a compact, cost-effective subscriber station utilizing the 5 GHz radio band. It functions as a CPE (Customer Premises Equipment) in a Point-to-MultiPoint (PtMP) environment with the LTU Rocket® as the basestation.
Features
PtMP CPE for LTU-Rocket
1024 QAM
10/20/30/40/50 MHz channel bandwidth
Central configuration management from AP side
Frequency split
Auto power adjustments
Router mode support
Specifications
Manufacturer's Code: LTU-Lite
Dimensions: 153 x 84 x 39.5 mm (6.02 x 3.31 x 1.56")
Weight: 250 g (8.82 oz)
Networking Interface: (1) 10/100/1000 Ethernet Port
Enclosure: Outdoor UV Stabilized Plastic
Max. Power Consumption: 8.5W
Power Supply: 24V, 0.5A Gigabit PoE Adapter (Included)
Power Method: 24V Passive PoE (Pairs 4, 5+; 7, 8-)
Voltage Range: 22 - 26V
Max. Conducted TX Power: 22 dBm per Chain
Gain: 13 dBi
Cross-pol Isolation: 20 dB Minimum
Max. VSWR: 1.8:1
Beamwidth: 45° (H-pol) / 45° (V-pol) / 45° (Elevation)
Polarization: Dual Linear
Mounting: Pole-Mount, Wall Mount (Kit Included)
Wind Loading: 20 N @ 200 km/h (4.5 lbf @ 125 mph)
Wind Survivability: 200 km/h (125 mph)
ESD/EMP Protection: ± 24kV Contact/Air
Operating Temperature: -40 to 60° C (-40 to 140° F)
Operating Humidity: 5 to 95% Noncondensing
Certifications: CE, FCC, IC
Package Contents
Power Supply: 24V, 0.5A Gigabit PoE Included
Mounting: Zip Tie and Wall Mount Bracket included
Resources
Just so you know; all our prices include GST, orders over $100.00 qualify for free shipping. Everything that is in stock (green tick icon) ships overnight on CourierPost. A lot of things that have the "blue question mark" stock icon are actually available now direct from our suppliers, please feel free to ask us if you aren't sure.
All our products are sourced through official channels, and come with a manufacturers warranty. Here's our returns policy if you'd like to read it before purchasing.