Ubiquiti LTU-Rocket 5GHz PTMP LTU Access Point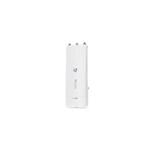 $860.00
Inc. GST and shipping
Retired product
This is a retired product and is no longer available. We don't have any alternatives at this time.
This is the Ubiquiti LTU-Rocket 5GHz PTMP LTU AP with External Antenna Support. Customized Technology for WISP Operators. Unmatched spectral efficiency, noise resiliency, and scalability to power long-range fixed wireless networks of the new internet. Incorporating Ubiquiti's proprietary LTU technology, the LTU-Rocket is a Point-to-MultiPoint (PtMP) 5 GHz Access Point featuring 2+ Mpps processing, proprietary RF filtering, and flexible GPS sync for superior performance. Channel width flexibility (10/20/30/40/50 MHz) allows independent TX and RX channel frequency configurations anywhere within the radio band to avoid local interference. A custom co-processor is included for future performance and feature upgrades.
Functions in a PtMP environment using the LTU-Pro and LTU-Lite for subscriber stations.
Features
Designed for scale in harsh RF environments
Affordable, no subscription fees
Rapid flow of releases and new features.
600+ Mbps PtMP performance
Up to 64 client connections per AP
96 QAM Modulation Symbols
2+ Million pps
Spectral Efficiency up to 21.2 bps/Hz
Proprietary RF Filtering
Specifications
Manufacturer's Code: LTU-Rocket
Maximum Throughput: 675.84 Mbps
Maximum Range: 100+ km
Packets per Second: 2+ Million
Encryption: WPA2-PSK (AES)
Forward Error Correction: LDPC
Uplink/Downlink Ratio: 25/75, 33/67, 50/50
OS: airOS LTU
Wireless Modes: AP
Max. Conducted TX Power: 29 dBm (Dependent on Regulatory Region)
Frequency Accuracy: < 2 ppm
Channel Bandwidth: 10/20/30/40/50 MHz Selectable, Programmable Uplink and Downlink Duty Cycles
Dimensions: 244 x 82 x 48 mm (9.61 x 3.23 x 1.89")
Weight: 0.468 kg (16.5 oz)
Enclosure: Diecast Aluminium and Polycarbonate
RF Connectors: (2) RP-SMA Weatherproof (CH0, CH1), (1) SMA Weatherproof (GPS)
GPS Antenna: External Magnetic Base
Power Supply: 24V, 1A Gigabit PoE Adapter (Included)
Power Method: Proprietary 4-Pair Passive PoE, Pins 1, 2; 4, 5+ and Pins 3, 6; 7, 8
Max. Power Consumption: 15W
Voltage Range: +18 to +54VDC
Networking Interface: (1) 10/100/1000 Ethernet Port
Mounting: Integrated Pole Mount (Included), Rocket Mount Compatible, GPS Pole Mount (Included)
Operating Temperature: -40 to 55° C (-40 to 131° F)
Weatherproofing: IP672
Certifications: FCC Part 15.407, CE EN 302502 v1.2.1, EN 301 893 v1.7.1
Package Contents
Power Supply: 3 Pin Clover Lead
Power Injector: 24VDC Gigabit POE Injector
Pole Mount: Yes, Integrated Pole Mount (Included), Rocket Mount Compatible, GPS Pole Mount (Included)
GPS Antenna: Yes
Resources
Just so you know; all our prices include GST, orders over $100.00 qualify for free shipping. Everything that is in stock (green tick icon) ships overnight on CourierPost. A lot of things that have the "blue question mark" stock icon are actually available now direct from our suppliers, please feel free to ask us if you aren't sure.
All our products are sourced through official channels, and come with a manufacturers warranty. Here's our returns policy if you'd like to read it before purchasing.