uBLOX GPS MAX-M8Q SAW/LNA Breakout With Sarantel Antenna - 3.3v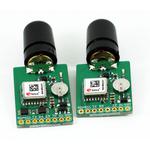 Retired product
This is a retired product and is no longer available. We don't have any alternatives at this time.
This is an assembled breakout board with a uBLOX MAX-M8Q GPS module, front end LNA and Filter, 3.3V version.
The board incorporates an Infineon front end SAW filter and LNA for enhanced performance and faster lock times.
We have two versions one suitable for 3.3V microcontrollers and logic levels and one suitable for interfacing with 5V microcontrollers such as the Arduino. The 5V version comes with suitable level convertor for serial/I2C and 3.3V regulator to ensure safe operation and interfacing. If the 5V version is connect to an Arduino you can still program the Arduino as the seial level convertor defaults to off.
Suitable for HAB Usage Max Altitude 50,000 meters / 164041 feet in Flight Mode.
The module is supplied with a 2.54mm 8 way header and a super cap for hot start/setting retention.
The board is constructed on 1.6mm PCB and utilises the Sarantel/Maruwa SL-1252 Quadrafilar Antenna offering great omnidirectional performance and rejection of out of band signals.
On the header are TX, RX, EN(Enable - turns on the level convertor on 5V boards), TP (PPS Output), 3/5V Supply I2C SCL/SDA and GND.
To use the 5V module you will need to pull the EN line high (just attach it to the 5V line).
The MAX-M8Q delivers all the benefits of the u-blox 8 GPS platform in a more compact form factor than ever before: high-sensitivity, intelligent power management.
Supporting temperatures down to -40'C and featuring a TCXO for better power saving and quicker startup.
The breakout has the following dimensions:

3V Version 48.5mmx21mm (board edge to top of antenna) x1.6mm (13.2mm antenna diameter) approximately - Weight 10g
5V Version 51.8mmx21mm (board edge to top of antenna) x1.6mm (13.2mm antenna diameter) approximately - Weight 10.3g
As per the data sheets the MAX M8Q can use upto 22mA under aquisition (5mA in power save mode once tracking).
The default baud rate is 9600bps.
For getting started with this module see this wiki article : http://ava.upuaut.net/?p=738
Datasheet : uBLOX MAX-M8Q SAW/LNA Breakout With Sarantel Antenna Datasheet
Just so you know; all our prices include GST, orders over $100.00 qualify for free shipping. Everything that is in stock (green tick icon) ships overnight on CourierPost. A lot of things that have the "blue question mark" stock icon are actually available now direct from our suppliers, please feel free to ask us if you aren't sure.
All our products are sourced through official channels, and come with a manufacturers warranty. Here's our returns policy if you'd like to read it before purchasing.