Yealink CP960 IP Conference Phone
Optima HD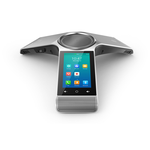 $1018.00
Inc. GST and shipping
The Yealink CP960 is an enterprise-grade conference phone for mid-and-large-sized meeting rooms. With speakerphone elements co-engineered with Harman, the CP960 sets new standards for sound quality and immerses conference participants in every discussion. Marrying a wide range and dead-zone-free voice pickup with Yealink's Noise Proof technology, the CP960 is the perfect match for day-to-day business conference conversations.
Overview
Optimize your conference room with Yealink's latest conference phone - the Yealink Optima HD IP Conference Phone, CP960.
Running on the power of the Android 5.1 operating system, this user-centric model combines a clean, sleek design with high-end functionality.
Meet the conference phone that's perfect for any team environment.
User-Centric Design
As the flagship conference phone for Yealink, the CP960 is designed with with the user in mind. WIt sports a 5-inch multi-touch screen with 720x1280 resolution. Easily navigate through the phone's setting or quickly add a party to the conference call - all with one simple touch.
An Abundance of Audio Options
Audio is at the forefront of features for this conference phone. The CP960 sports Optima HD Voice and...
6 meter, 360 degree voice pickup
Option for extension microphones*
Built in three-microphone array
Extended audio-capture of up to 20 meters with DECT microphones
Decreased background noise with Yealink Noise Proof technology
*Get more out of your Yealink CP690 by adding on the CPW90 wireless mic or CPE90 wired mic.
Additional Features
The Yealink CP960 gives you everything else you want and crave in a conference phone solution. It's easy to add attendees to your conference with a tap of the touchscreen. Add up to five parties, including yourself.
The Active Speaker feature allows you to easily recognize who is speaking during the meeting, too. No guessing games. You can also hold a hybrid UC meeting by merging your smartphone, PC/tablet, and IP conference phone into one call.
And if you're looking to use the phone in a large training room, turn up the volume by connecting the CP960 to an external loudspeaker via the 3.5 mm audio-out port.
Specifications
To view the manufacturer specifications, visit the CP960 product page on the Yealink website.
Just so you know; all our prices include GST, orders over $100.00 qualify for free shipping. Everything that is in stock (green tick icon) ships overnight on CourierPost. A lot of things that have the "blue question mark" stock icon are actually available now direct from our suppliers, please feel free to ask us if you aren't sure.
All our products are sourced through official channels, and come with a manufacturers warranty. Here's our returns policy if you'd like to read it before purchasing.