Flirc v2
Programmable Infrared Remote Control Receiver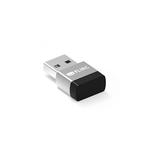 Flirc allows you to pair any remote control with your computer or media centre. Flirc learns from any remote control, not caring about different vendor protocols. Just walk through the super simple setup - pairing individual remote buttons with 'Media Centre Buttons' and you're done. It's basically a universal IR receiver, so can be used with any remote you choose, old, new or Universal! The best part about FLIRC is that it can be used to mimic a keyboard so every media centre application understands it without any drivers. FLIRC runs across all platforms, Mac, Linux, and Windows.
Want to use your remote control with an XBOX or Playstation? No problem. Pair flirc on a PC, and use flirc on any USB device without any additional software, it just works.
Don't bother using another remote control for your raspberry pi, flirc allows you to use your same television remote and is such a perfect companion for the pi, that we started selling them and even offer them together at a discount. Program the flirc on a PC, and use it on the pi without any additional software. Or download the XBMC plugin, which also runs on the pi, and pair your remote in just a few simple steps.
Super Simple Setup: Use our cross platform pairing application for easy remote control pairing. You are walked through the setup process one button at a time until your remote is paired. Pair any remote control button with any keyboard key and use our builtin application profiles for easy setup.
Command Line Application: Use our cross platform commandline application for complete control and configuration of your flirc. Our commandline application can do everything the GUI can do.
Suspend or Wake Up Your Computer: Pair the suspend and wakeup key to any remote control button for complete control of your media centre. As long as your motherboard supports wake on USB, you're clicks away.
Backup, Restore, and Share: Your paired remote configuration is saved on your device but you can back it up or share it with our Cross platform applications.
Advanced Configuration: Because flirc acts as a keyboard, our GUI allows you to pair any remote control button with any keyboard key for advanced functionality. Run hot scripts, launch applications, all with a single remote control button.
New Software Features
Long Key Presses: Assign two functions to one button. Press the button for one function, hold down the button for the other function. Now possible with our new powerful arm processor.
Macros: Want to run a number of commands on a key press? With the new flirc, you can store over 500 keys, and have more than one keypress per individual remote button.
Documentation
Just so you know; all our prices include GST, orders over $100.00 qualify for free shipping. Everything that is in stock (green tick icon) ships overnight on CourierPost. A lot of things that have the "blue question mark" stock icon are actually available now direct from our suppliers, please feel free to ask us if you aren't sure.
All our products are sourced through official channels, and come with a manufacturers warranty. Here's our returns policy if you'd like to read it before purchasing.