Micro USB Power Supply - 2A
NZ/AU Plug, suits all Raspberry Pi Models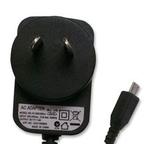 The Raspberry Pi can be a little picky about it's power supply, it wants a nice stable 5V and if you're going to be running high powered USB accessories such that the new Raspberry Pi 3 allows you'll need a good 2A+ power supply like this one which is specifically designed for the Raspberry Pi. This adapter has nice thick internal copper wires to reduce voltage drop which might give the dreaded "rainbow square" on the Raspberry Pi display.
Although this is designed for the Raspberry Pi, due to the high current output and thick cable it's also ideal for charging Android phones and tablets with a high power need when charging.
Note about the Raspberry Pi 3 A lot of people are confused about the Raspberry Pi 3 requiring a 2.5A power supply. That's not actually the case, it can utilise a 2.5A power supply if you're wanting to power large accessories such as a spinning hard drive from the Pi's USB ports. However the Pi 3 will actually run just fine with a 0.7A power supply, meaning this 2A one is perfectly fine too.
Specifications
Cable length: 1.5m
Conductor wire size: 22AWG
Rated Voltage: 100-240V AC
Variation Range: 90-264V AC
Rated Frequency: 50/60Hz
Variation Frequency: 47-63Hz
Input Current: 0.5A max at any input voltage and rated, DC output rated load.
Inrush Current: 50A max. Cold start at 220V AC input, with rated load and 25 ambient.
Leakage Current: 0.25mA Max. at 240V AC input
No-load input power: : With no-load on the output, input power 230V AC 0.3W Max.
With 2 Amp output at 5V DC this power supply will supply more than enough power to run all the Raspberry Pi models including USB accessories such as wireless adapters, keyboards, etc.. This is one of our recommend power supplies for the new Raspberry Pi 3.
Just so you know; all our prices include GST, orders over $100.00 qualify for free shipping. Everything that is in stock (green tick icon) ships overnight on CourierPost. A lot of things that have the "blue question mark" stock icon are actually available now direct from our suppliers, please feel free to ask us if you aren't sure.
All our products are sourced through official channels, and come with a manufacturers warranty. Here's our returns policy if you'd like to read it before purchasing.