Cisco SPA500 IP Phones, what's the difference?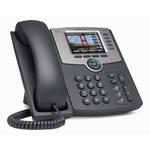 So we might be a little late to the party (sorry about that) but we've finally got around to adding the Cisco "Small Business Pro" SPA500 series range of IP phones to the store.
If you include the previously released SPA525G, there are 6 models in the Small Business Pro range. The new phones in order are; the SPA501G, SPA502G, SPA504G, SPA508G and SPA509G.
Firstly, lets start off with what is the same about the phone models;
All models include a 2 port Ethernet switch - this allows you to connect the IP phone to the network and then connect your computer to the phone which means you don't have to call your cabling contractor out as part of setting up your phone.
All models support standard 802.3af Power over Ethernet (PoE).
They all have a full duplex speakerphone, which by all reports gives good sound quality.
All models support HD Voice - G722 wideband audio codec which gives superior sound quality.
They've all got a 2.5mm headset jack.
All models have a Message Waiting Indicator Light (MWI) and decent amount of hardware buttons for common tasks - 12 button dial pad, 4-way navigation key, and illuminated buttons for volume, hold, menu voicemail.
They all support an expansion module for attendants.
The software supports both SIP for standard VoIP providers and Cisco's proprietry protocols to work with their UC500 platform.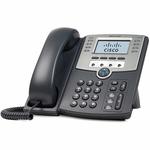 and now for what differentiates the phones;
1 line
No display, uses a paper insert to write speed-dials etc. on
Has 8 programmable function keys (to go with the above paper insert)

1 line
Monochrome 128x64 pixel backlit display
No programmable function keys

4 lines
Monochrome 128x64 pixel backlit display
4 programmable function keys

8 lines
Monochrome 128x64 pixel backlit display
8 programmable function keys

12 lines
Monochrome 128x64 pixel backlit display
12 programmable function keys

5 lines
Color 320x240 pixel backlit display
5 programmable function keys
WiFi
Bluetooth
MP3 player
Picture viewer
RSS feed reader
As you can see the SPA525G is quite a step up from the rest of the range, unfortunately at the time of writing it hasn't been in stock at the New Zealand distributors much at all. Hopefully this situation is rectified soon.
Hopefully that gives an insight into the new-ish Cisco SPA500 Small Business Pro range of IP phones. If you've got any questions that we didn't answer here or would like to know anything else then feel free to leave a comment below or drop us a line.
Update: Fixed the number of lines which we reported incorrectly.
0 responses to "Cisco SPA500 IP Phones, what's the difference?"
Leave a comment